iCPlate2 X or XT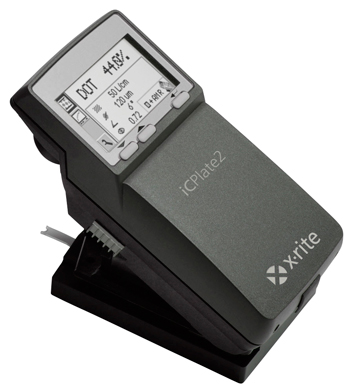 Are you measuring your plates? You should be!
Just think of the costs of incorrect plates. The lost time, make-ready costs and press down-time waiting for the corrections. It can add up to a lot of money, even on a typical job. Is it worth it? Can you afford not to have a plate measurement device?
Accurate. Simple. Efficient.
iCPlate2 offers a high level of plate reading accuracy for standard plate reading applications. It offers high camera resolution, automatic calibration and very long battery life.
Delivering Highest Measurement Accuracy
For standard plate reading applications, iCPlate2 offers a superior object recognition algorithm, coupled with an outstanding camera optics illumination system. The high resolution camera measures a wide variety of plate types, both positive and negative, no matter whether you are using AM, FM or hybrid screen types
Easy to Use
iCPlate2 is a small, lightweight unit with a simple, visual targeting system for precise positioning. Switch modes easily and use your iCPlate2 for multiple functions like controlling your plate or calibrating your imager, making it easy to track plate accuracy and consistency with just one device.
Efficient
LED illumination of the image on the plate while it is being read means you can get more than 30,000 measurements from a single set of AA batteries.
NEW! Measurement Modes iCPlate2 supports two measurement modes

iCPlate2 Mode: Measures according to the X-Rite iCPlate2 (or previous iCPlate II) standard. Compatible with all previous versions, this mode of the iCPlate2 uses X-Rite's custom plate measurement algorithm allowing for accurate measurement of the dots.

FOGRA Measuring Bar FMB Support:
Both iCPlate2 devices support measurements in compliance with the FOGRA Measuring Bar (FMB), aligning your plate measurements to the official reference standard from the Fogra Institute, if that is your reference of choice.
• Models Tailored for Maximum Productivity
iCPlate2 comes in two configurations, depending on your needs. You can upgrade your iCPlate2 X to an XT anytime with an activation code purchased separately.

• iCPlate2 X: designed for customers who troubleshoot occasionally and use the device to assist in diagnosing problems. Dot area measurements only.

• iCPlate2 XT: Best for customers who regularly troubleshoot their plates. Reads dot area, screen ruling, dot size and screen angle.

• PlateQuality 2.0 & Capture Tool

• New PlateQuality 2.0 Software Designed specifically for X-Rite plate control devices, PlateQuality software stores, visualizes, and documents both individual measurements and plate characteristic curve measurements giving operators a saveable, visual dot reference to refer back to when needed. Both measurement values and plate images are stored in a database.
• New Capture Tool Software Capture Tool software allows users to easily import measurement values and plate images directly into an active Windows application, such as Microsoft Excel, for quality tracking purposes.

View more information on plate control software from X-Rite


PlateQuality software is optional for iCPlate2 models. Capture Tool software is provided with all plate control solutions.