Controlling Color Chaos Session 1: Workflow in Color Management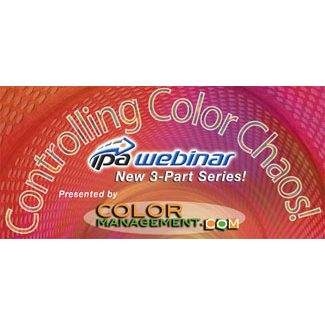 Wednesday, October 19, 2005 2:00 PM Eastern

The first session outlines challenges and pitfalls common in a graphics workflow and how color management can address and solve many of these problems. The session will also discuss how to "trust the the screen", i.e. use color management to validate what you are actually seeing.

Wednesday, October 19, 2005

2:00 pm Eastern

Description

The printed piece doesn't match the proof, results are inconsistent and everyone's upset. Its total COLOR CHAOS!!! What do you do!?

It often takes such a crisis to get "everyone" (print buyers, communications managers, photographers, designers, prepress providers and printers) thinking PROACTIVELY about color control instead of simply reacting to color problems. Imagine if proofs actually matched the press sheets, monitors were truly color accurate and all your printers produced consistently good color.

"Controlling Color Chaos" is a 3-part webinar series produced jointly with ColorManagement.com, that will demonstrate how color management is used to help print buyers and the creative community resolve color problems before its too late. This program empowers the creative community to avoid subjective evaluations by providing them with the tools and information they need to finally get control of their color on press. Attendees will learn how to use cost-effective quality control tools to verify results with printers capable of meeting accurate color control standards.

This Webinar will answer the questions:
Why is my printed piece so far from what I expected?
Can I really trust my proof to be produced accurately on press?
What specific things should I look for during a "press okay"?
Why is "accurate color" so subjective?
How do I calibrate my monitor consistent with the proofing and print results?
How do I hold my printer accountable for accurate color reproduction?
Presenter

Ron Ellis is a New England-based consultant specializing in color management, workflow training, and prepress integration. He has provided installation and training services to dealers, manufacturers, and content creators for over 20 years. His expertise also includes proofing systems, RIPs and workflow techniques ranging from simple proofing systems to entire workflow installations. Ron has authored numerous articles for industry publications and has developed training materials for numerous printing industry vendors.