PrUA Color Management Boot Camp - Atlanta, GA Dates TBA
This boot camp is Bi-Lingual: Spanish and English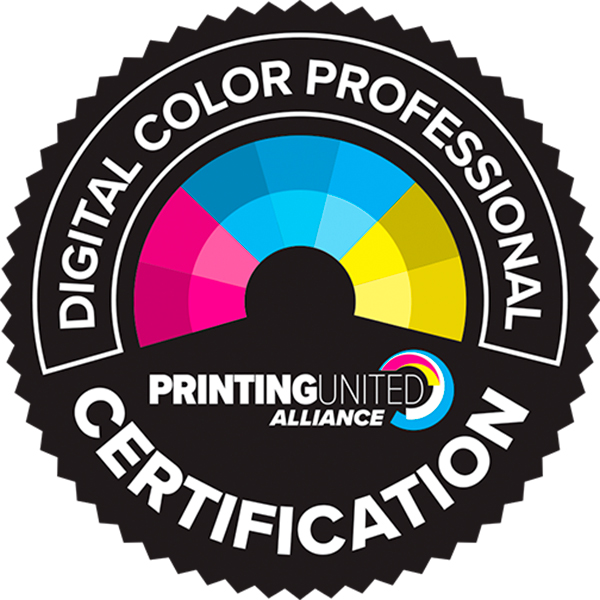 New Dates TBA
Join Color Management Group and PrUA at Printing UX for this amazing learning experience! Learn from the pros how to implement best color management practices. This 2-1/2 day color management "Boot Camp" will prepare you for all of your color battles. You'll learn how to linearize, profile, optimize and verify color on all of your output devices using leading edge RIP technology, all while we're preparing you to take the PrUA Digital Color Professional Certification Program exam (fee included).
PrUA recently introduced a new printing industry color certification, called PrUA Digital Color Professional. CMG is partnering with PrUA to host this workshop at Printing United to teach the best methods for color managing printing devices, and preparing attendees for qualification and/or certification in PrUA's program. Each attendee will receive a link to take the PrUA Digital Color Professional Exam, within 2 weeks of the class. Learn from the industry leaders how to maximize your investment, get color right the first time, and stop wasting time and money. There will be limited seats available, so Register NOW!
The PrUA Digital Color Professional Certified Instructor for this event is Ben Starr (Color Management and Workflow Expert - Color Management Group). Ben offers 10 years of printing and color experience and is a long-time G7 Expert – as well as being certified on many other color management, RIP and workflow related products. Meet your PrUA Lead Certified Instructor: Ben Starr. Ben will be accompanied by CMG Consultant Member Alvaro Rodriguez, who speaks both Spanish and Portuguese in addition to English, and CMG Member Consultant Mike Ruff, G7 Expert with 43 years of experience in the digital inkjet and Screen Printing industries.
Who Should Attend:
Color and color management staff
Digital print and production professionals
Digital printer, press and machine operators
Prepress, production art, pre-media and design personnel
Company owners, customer service and sales representatives
Location of Boot Camp:
Printing United UX
What You'll Learn:
Color management theory and universal concepts
North American print standards and specifications
How to choose a target to match
The process for matching (or not matching) your target
Requirements for establishing an accurate soft-proof on monitors
How to prepare art files properly
How to control both process and spot color using color management in RIP
Best practices and hands-on instruction for linearizing devices
Hands-on media profiling with RIP software
Proven methods for creating ICC profiles (especially for ink savings)
Software for viewing ICC profile gamuts and quality control
Options for how you can verify that your color is accurate
Measuring spot colors, managing spot colors and spot color replacement
You can view the agenda for the event here: AGENDA
What's Included:
Continental breakfast each morning
Lunch provided first and second day
Color Think Pro - Full software license
Kolormondo Mini Color Globe
Two Hours of remote support to help implement what you've learned
A coupon code to use for future purchases
A link to take the online exam afterward
Submission fee for sending the control print (after passing exam)
Knowledge that will last a lifetime
DISCLAIMER:
Please make sure to provide all of the attendee's contact information when checking out.
Minimum class size requirements must be met 1 week prior to workshop start date. There is a 10 attendee minimum in order to hold this workshop. Please DO NOT make your travel plans until class size is confirmed, you will be notified via email. You will receive a full refund if minimum class size is not met and the class is cancelled. No refunds for cancellations within 1 week of scheduled class start date.