CMG SureProof 1OBA SM250 - Premium Proofing Media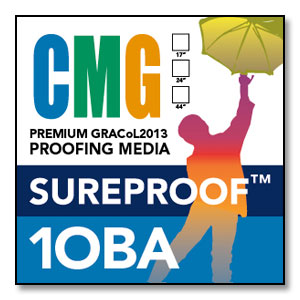 The Color Management Group is now offering this premium GRACoL® proofing media. This paper contains optical brighteners (OBA's) and matches the paper color for GRACoL® specification. At 250gsm this media has virtually no see-through with a 95% opacity.
If you are looking for the premier GRACoL® 2013 media - look no further!
CMG SureProof OBA is manufactured to meet or beat original equipment manufacturer's specifications. CMG SureProof OBA is a 10mil, high quality, resin-coated photobase paper with a universal microporous coating available in satin finish. This photobase paper is designed to provide instant dry times on most high speed, thermal and piezo water-based inkjet printer systems with dye and pigmented inks. Instant dry times reduce production time by eliminating the most time-consuming stage of the workflow—print drying to lamination.
BENEFITS & PROPERTIES
Reproducibility by outstanding media color consistency
Suitable for spot colors
Large color gamut
No matting due to a high ink load
Instant dry
KEY APPLICATIONS
Proof & Prepress
Proofs for offset, gravure and screen printing
Dot-proofs
Contract, design and check proofs
Mock-ups
CIELab Paper Color
L M0: 96.8
a M0: 0.8
b M0: -3.8
L M1: 96.8
a M1: 0.9
b M1: -5.1
* GRACoL is a registered trademark of the IDEAlliance
Made for FOGRA 51 / GRACoL 2013 Proofing