I just did a ColorBurst Pro install and training this week and I wanted to share my experience and results. I have been using the ColorBurst RIP software for the better part of 10 years and for the past several years have enjoyed using ColorBurst X-Proof - I recommend and sell it frequently to my clients and I use it myself for photographic and fine art output. I believe it is the easiest to use RIP with the best results right of the box for all my Epson printers (3800, 7800, 7900). However I don't usually use it for proofing and have not been that involved with the Pro software either - which now looks very similar to X-Proof but with way more features. So I installed ColorBurst Pro in my demo room and ran through a color setup on my Epson 7800 using Epson Standard Proofing Paper before I went to do the on-site installation and training. I was able to create a calibration and and ICC profile using the supplied SpectralVision software (which is really X-Rite ColorPort interface with Monaco Profiler engine behind it). The process was really quick and easy, now I have a DTP70 which makes this process go much faster, but it can be done with just about any spectro you might have. After the color was setup I printed an IT8 7.4 chart using the GRACoL profile and the Absolute rendering intent. I then measured the color managed chart and compared the values to the GRACoL data set in X-Rite MeasureTool (which works in limited demo mode with just an i1 plugged in). I was particularly impressed because I usually only see DeltaE numbers this low from much more expensive RIP's with built in iteration/optimization. The following day I went to the customer site and ran through the exact same steps and got results almost identical to what I had achieved in my office. They loved the layout features and we were outputting production proofs by early afternoon - quite a nice experience overall. Check out the results.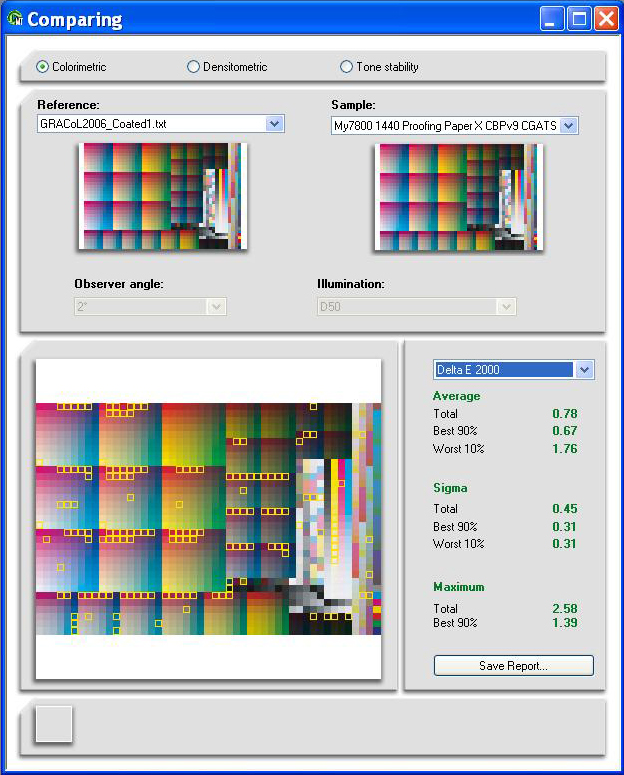 Look at these numbers! Comparing with DeltaE 2000 shows .78 for the overall average and 2.58 for the maximum worst color match. These are awesome numbers regardless of which RIP you are using. And, consider that this setup was done on an older Epson 7800 with original Ultrachrome K3 inks, I would have to assume that any newer printer models should perform even better - pretty remarkable! Now I am not saying that ColorBurst Pro is the best proofer RIP on the planet but for the money (around $1,500 for a 24" and $2,000 for up to 64") and considering it comes with great ICC profiling software, it is a serious value and should be considered a truly professional product.
Per Marc's request, here are the DeltaE 76 numbers. Not as favorable as DeltaE 2000 which is more tuned for human visual perception but it is valuable to see the "straight" DeltaE values as well.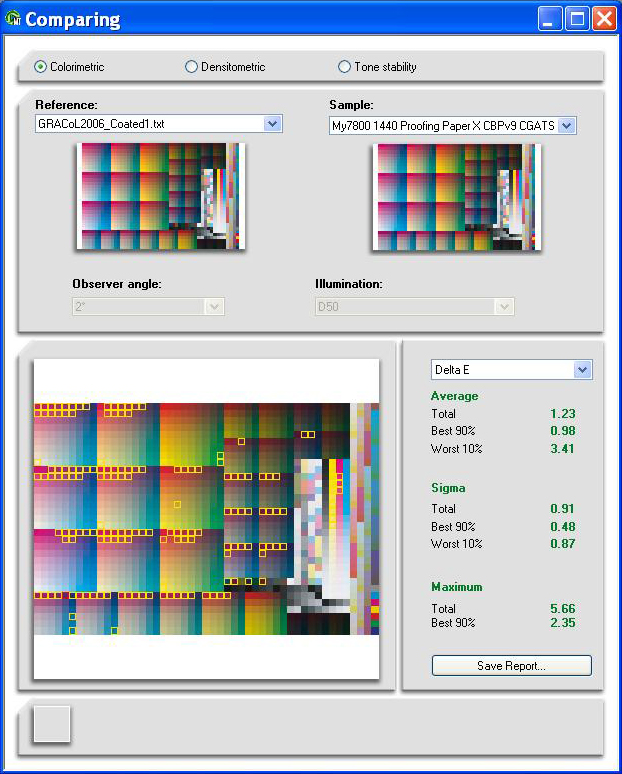 3 comments