Tucanna tFlow

Tucanna tFlow is a new concept in PDF preflighting, color transformation and workflow automation. tFlow is elegant and user-friendly software and there is nothing quite like it on the market today!

• OS independent - You are free! to use your Mac, your PC, or both.

• Preflight - Check and correct problem PDFs before they affect your production.

• Total control - Complete production workflow at your fingertips.

• Simplified workflow - Automation and simple integration with existing systems.

• Color management - Color conversion, Ink saving, and Tone curve adjustments.

• Client and Server - Connect and manage your files either locally or over the Internet.

Whether you are an advertising agency, digital printer, publisher, etc. - you are no doubt looking to streamline the process of receiving print ready files. Look no further than Tucanna tFlow. Download product brochure here.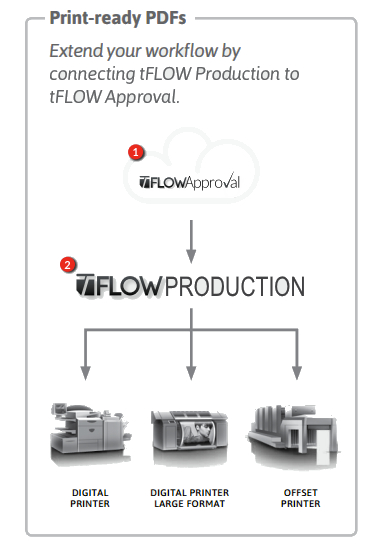 BASE PACKAGE

Includes 1 Turbine Server + 5 tFlow Clients
Maximum 2 simultaneous processes
Includes basic device link profile set

SYSTEM REQUIREMENTS

Windows:
Microsoft Windows XP with Service Pack 3 (including64-bit editions); Windows Server 2003 or 2008; WindowsVista (including 64-bit editions) with Service Pack 2;Windows 7 (including 64-bit editions); Windows 8.

Mac OS:
Intel Core Duo 1.83GHz or faster processor Mac OS Xv10.5 or later, 512Mb of RAM (2Gb recommended) /Adobe AIR 2.7 runtime or later.
tFlow 1.7 BASIC device link profile set.


CT - EuroscaleV2 - to - ISO CoatedV2_330.icc
CT - GRACoL1 - to - SNAP2007_240.icc
CT - GRACoL1 - to - SWOP3_300.icc
CT - GRACoL1 - to - SWOP5_280.icc
CT - ISO Coated - to - ISO CoatedV2_300.icc
CT - ISO Coated - to - ISO CoatedV2_330.icc
CT - ISO CoatedV2 - to - Newspaper26_240.icc
CT - ISO CoatedV2 - to - PSO LWC Improved_300.icc
CT - ISO CoatedV2 - to - PSO LWC Standard_300.icc
CT - ISO CoatedV2 - to - PSO MFC_280.icc
CT - ISO CoatedV2 - to - PSO SNP_260.icc
CT - ISO CoatedV2 - to - PSO Uncoated_280.icc
CT - ISO CoatedV2 - to - PSR LWCPlusV2_360.icc
CT - ISO CoatedV2 - to - SC Paper_260.icc
CT - ISO CoatedV2 - to - UncoatedYellowish_280.icc
CT - ISO CoatedV2 - to - Uncoated_280.icc
CT - ISO CoatedV2 - to - Web Coated_300.icc
CT - ISO Uncoated - to - PSO UncoatedNP_280.icc
CT - ISO Web Coated - to - PSO LWC Improved_300.icc
CT - ISO Web Coated - to - PSO LWC Standard_300.icc
CT - JapanColor2001 Coated - to - 2001Uncoated_300.icc
CT - JapanColor2001 Coated - to - 2002Newspaper_240.icc
CT - JapanColor2001 Coated - to - 2003 Web Coated_320.icc
TA - GRACoL1_320.icc
TA - ISO Coatedv2_300.icc
TA - ISO Coatedv2_330.icc


tFlow 1.7 EXTENDED device link profile set.

General
ISO Coatedv2 - to - ISO Uncoated Yellowish.icc
ISO Coatedv2 - to - ISO Uncoated.icc
ISO Coatedv2 - to - ISO Webcoated.icc
ISO Coatedv2 - to - PSO LWC Improved.icc
ISO Coatedv2 - to - PSO LWC.icc
ISO Coatedv2 - to - PSO MFC.icc
ISO Coatedv2 - to - PSO SNP.icc
ISO Coatedv2 - to - PSO Uncoated NP.icc
ISO Coatedv2 - to - PSO Uncoated.icc
ISO Coatedv2 - to - PSR LWC Plus v2.icc
ISO Coatedv2 - to - PSR SC.icc
ISO Webcoatedv2 - to - PSO LWC Improved.icc
ISO Webcoatedv2 - to - PSO LWC.icc

COLOR TRANSFORM AND TAC
CT - GRACoL1 - to - ISO Newspaper26_240.icc
CT - GRACoL1 - to - ISO Uncoated_280.icc
CT - GRACoL1 - to - ISO Web Coated_300.icc
CT - GRACoL1 - to - PSO LWC Improved_300.icc
CT - GRACoL1 - to - PSO LWC Standard_300.icc
CT - GRACoL1 - to - PSO Uncoated_280.icc
CT - GRACoL1 - to - SNAP2007_240.icc
CT - GRACoL1 - to - SWOP3_300.icc
CT - GRACoL1 - to - SWOP5_280.icc
CT - ISO CoatedV2 - to - Cofcoated300.icc
CT - ISO CoatedV2 - to - Cofuncoated280.icc
CT - ISO CoatedV2 - to - GRACoL1320.icc
CT - ISO CoatedV2 - to - Japan2001 Coated_320.icc
CT - ISO CoatedV2 - to - Japan2002 News_240.icc
CT - ISO CoatedV2 - to - Japan2003 Webcoated_300.icc
CT - ISO CoatedV2 - to - PSO CoatedNP_300.icc
CT - ISO CoatedV2 - to - PSO CoatedNP_330.icc
CT - ISO CoatedV2 - to - PSO UncoatedNP_280.icc
CT - ISO CoatedV2 - to - PSR HWC.icc
CT - ISO CoatedV2 - to - PSR HWC.icc
CT - ISO CoatedV2 - to - PSR LWC PlusV2.icc
CT - ISO CoatedV2 - to - PSR LWC StandardV2.icc
CT - ISO CoatedV2 - to - PSR LWC.icc
CT - ISO CoatedV2 - to - PSR MF.icc
CT - ISO CoatedV2 - to - PSR SC PlusV2.icc
CT - ISO CoatedV2 - to - PSR SC StandardV2.icc
CT - ISO CoatedV2 - to - PSR SC.icc
CT - ISO CoatedV2 - to - SNAP2007_240.icc
CT - ISO CoatedV2 - to - SWOP3_300.icc
CT - ISO CoatedV2 - to - SWOP5_280.icc
CT - ISO Uncoated - to - Cofuncoated_280.icc
CT - ISO Uncoated - to - PSO UncoatedNP_280.icc
CT - ISO Uncoated - to - PSO Uncoated_280.icc
CT - ISO Uncoated - to - Uncoated Yellowish_280.icc
CT - ISO Web Coated - to - PSR LWC PlusV2.icc
CT - ISO Web Coated - to - PSR LWC StandardV2.icc
CT - ISO Web Coated - to - SWOP3_300.icc
CT - ISO Web Coated - to - SWOP5_280.icc
CT - PSO LWC Impr - to - PSR LWC PlusV2.icc
CT - PSO LWC Improved - to - SWOP3_300.icc
CT - PSO LWC Standard - to - PSR LWC StandardV2.icc
CT - PSO LWC Standard - to - SWOP5_280.icc
CT - PSO SC - to - PSR SC StandardV2.icc
CT - PSO Uncoated - to - PSO UncoatedNP_280.icc
CT - PSR - LWC StandardV2 - to - PSO LWC Standard_300.icc
CT - PSR HWC - to - PSR LWC PlusV2.icc
CT - PSR LWC - to - ISO Web Coated_300.icc
CT - PSR LWC - to - PSR LWC StandardV2.icc
CT - PSR LWC - to - SWOP3_300.icc
CT - PSR LWC PlusV2 - to - PSO LWC Impr.icc
CT - PSR LWC PlusV2 - to - PSR LWC StandardV2.icc
CT - PSR LWC PlusV2 - to - PSR MF.icc
CT - PSR LWC PlusV2 - to - SWOP3_300.icc
CT - PSR LWC StandardV2 - to - PSR LWC PlusV2.icc
CT - PSR LWC StandardV2 - to - PSR MF.icc
CT - PSR LWC StandardV2 - to - SWOP5_280.icc
CT - PSR SC - to - PSR SC StandardV2.icc
CT - PSR SC StandardV2 - to - PSO SC_260.icc
CT - SWOP3 - to - ISO CoatedV2_330.icc
CT - SWOP3 - to - ISO Web Coated_300.icc
CT - SWOP3 - to - PSO LWC Improved_300.icc
CT - SWOP3 - to - PSR LWC_360.icc
CT - SWOP3 - to - PSR LWX PlusV2.icc
CT - SWOP3 - to - SWOP5_280.icc
CT - SWOP5 - to - PSO LWC Standard_300.icc
CT - SWOP5 - to - PSR LWC StandardV2.icc

Ink Saving
IS - GRACoL1_300 Low.icc
IS - GRACoL1_300 Medium.icc
IS - ISO CoatedV2_300 High.icc
IS - ISO CoatedV2_300 Low.icc
IS - ISO CoatedV2_300 Medium.icc
IS - ISO Newspaper26_240 High.icc
IS - ISO Newspaper26_240 Medium.icc
IS - ISO Uncoated Yellow_280 High.icc
IS - ISO Uncoated Yellow_280 Low.icc
IS - ISO Uncoated Yellow_280 Medium.icc
IS - Japan WebCoated_Ad High.icc
IS - Japan WebCoated_Ad Medium.icc
IS - Japan WebCoated_Ad Neutral.icc
IS - Japan2001 Coated_300 High.icc
IS - Japan2001 Coated_300 Low.icc
IS - Japan2001 Coated_300 Medium.icc
IS - Japan2001 Uncoated_280 High.icc
IS - Japan2001 Uncoated_280 Low.icc
IS - Japan2001 Uncoated_280 Medium.icc
IS - Japan2002 Newspaper_240 High.icc
IS - Japan2002 Newspaper_240 Medium.icc
IS - Japan2003 WebCoated_300 High.icc
IS - Japan2003 WebCoated_300 Low.icc
IS - Japan2003 WebCoated_300 Medium.icc
IS - PSO CoatedNP_300 High.icc
IS - PSO CoatedNP_300 Low.icc
IS - PSO CoatedNP_300 Medium.icc
IS - PSO LWC Improved_300 High.icc
IS - PSO LWC Improved_300 Low.icc
IS - PSO LWC Improved_300 Medium.icc
IS - PSO LWC Standard_300 High.icc
IS - PSO LWC Standard_300 Low.icc
IS - PSO LWC Standard_300 Medium.icc
IS - PSO MFC_260 High.icc
IS - PSO MFC_260 Low.icc
IS - PSO MFC_260 Medium.icc
IS - PSO SNP_260 High.icc
IS - PSO SNP_260 Low.icc
IS - PSO SNP_260 Medium.icc
IS - PSO UncoatedNP_280 High.icc
IS - PSO UncoatedNP_280 Low.icc
IS - PSO UncoatedNP_280 Medium.icc
IS - PSO Uncoated_280 High.icc
IS - PSO Uncoated_280 Low.icc
IS - PSO Uncoated_280 Medium.icc
IS - SC_260 High.icc
IS - SC_260 Low.icc
IS - SC_260 Medium.icc
IS - SNAP2009_220 High.icc
IS - SNAP2009_220 Medium.icc
IS - SWOP3_300 High.icc
IS - SWOP3_300 Low.icc
IS - SWOP3_300 Medium.icc
IS - SWOP5_280 High.icc
IS - SWOP5_280 Low.icc
IS - SWOP5_280 Medium.icc